Cuisine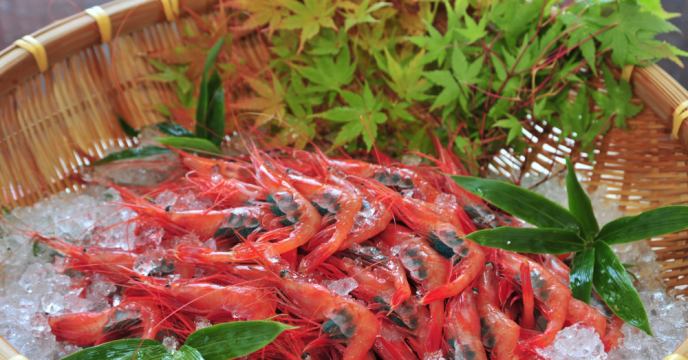 Enjoy the grace of the Sea of ​​Japan and the Earth
Fresh sea food in the Sea of ​​Japan.
A mountain covered with nature and human hands.
Please enjoy various seasonal tastes throughout the four seasons.
Stamped plan◇Local specialties "Red with red bell pepper" and "Domestic beef sirloin"

If you enjoy "crab" and "meat", this plan

A whole cup full of the special product "Red Zwai Crab" of No Fishing Port Itoigawa!
The crimson crab crab lives in the deep sea more than a common book sween crab and it is called red cray crab, because it has a red color before boiling.It is a sweet rich crab, easy to remove and easy to eat.
You can enjoy a different taste than this sweet crab and it is a specialty that is eaten locally as well.

【Dinner menu example】
◇Attached liver liver tofu
◇Appetizer Firefly squid koji pickled with scallop and squid plum meat
◇Rice bowl steamed with conger eel and raw fu
◇Freshly delivered to the market today
◇Fire thing red snapper shabu-shabu
◇Strong appetizer red crab appearance
◇Meat dishes carefully selected domestic beef sirloin stone grilled
◇Warm Taro Shirako Pier
◇Meal Koshihikari from Hayakawa, Itoigawa City
◇Stay, Bowl
◇Sweet, taste

* Food image is an image.
*Depending on the purchase situation, there may be changes in ingredients / menus.
* For continuous lodging, it will be a separate menu.

Japanese seafood dishes

The sea which is also the source of our lives.
Please enjoy the truly live seafood awarded to us from the Sea of ​​Japan.

Western fresh material

The taste of the ocean to taste in the place surrounded by mountains and the sea.
Please fully enjoy the taste bred by nature and human hands.

Food ingredients of Itoigawa blessed with mountains

【Nanban shrimp】
Fresh fresh shrimp taken from the Sea of ​​Japan is a specialty of Itoigawa.
Please enjoy the freshest sweet shrimp with HOTEL KUNITOMI ANNEX near the sea.

【Koshihikari】
Koshihikari from Itoigawa of Koshihikari from Itoigawa, which is strictly cold in day and night, suitable for making rice, has Koshi and Tsuya, cooks sweet and plump rice.

【Kubiki Beef】
It was brought up lovingly and carefully by the hands of production farmers who cleared the strict standards."Township of Deep Snow:Kubiki Beef"