Cuisine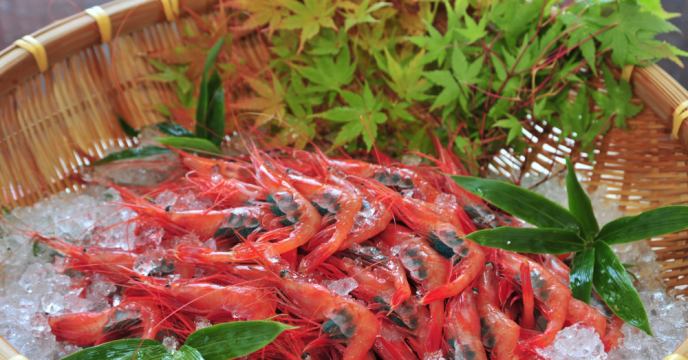 Enjoy the grace of the Sea of ​​Japan and the Earth
Fresh sea food in the Sea of ​​Japan.
A mountain covered with nature and human hands.
Please enjoy various seasonal tastes throughout the four seasons.
December, Stamped plan

Local specialty "Red Snow crab meat dish"

Hospitality with seasonal ingredients sticking to the ingredients of Itoigawa.
No Fishing Port specialties of Itoigawa! Red cricket crab! One whole animal!
We will prepare the entire body as a producing area so please fully taste it!

【Dinner menu example】
◇Ahead, Oyashirazu obscenity
◇Appetizer, Kotobuki bean sprouts, Asari sesame
◇Bowl replacement, scallops and lily royal
◇Sashimi, today's local fish with Japanese sea urchin
◇Fire stuff, Shabu-shabu of water octopus from Hokkaido
◇Fish dishes, salads taste of lightly roasted flavor and flavored vegetables
◇From cold weather, Kodomari fishing port red snow crab crumb height
◇Warmth, Turtle chestnut manju
◇Stopper, Local Red Snow crab juice
◇Meal, Itoigawa City Hayakawa Koshihikari
◇Dessert, Rich chocolate mousse

* Food image is an image.
* There may be changes in ingredients / menus depending on the purchase situation.
* For continuous lodging, it will be a separate menu.

Japanese seafood dishes

The sea which is also the source of our lives.
Please enjoy the truly live seafood awarded to us from the Sea of ​​Japan.

Western fresh material

The taste of the ocean to taste in the place surrounded by mountains and the sea.
Please fully enjoy the taste bred by nature and human hands.

Food ingredients of Itoigawa blessed with mountains

【Nanban shrimp】
Fresh fresh shrimp taken from the Sea of ​​Japan is a specialty of Itoigawa.
Please enjoy the freshest sweet shrimp with HOTEL KUNITOMI ANNEX near the sea.

【Koshihikari】
Koshihikari from Itoigawa of Koshihikari from Itoigawa, which is strictly cold in day and night, suitable for making rice, has Koshi and Tsuya, cooks sweet and plump rice.

【A cowed cattle】
It was brought up lovingly and carefully by the hands of production farmers who cleared the strict standards."Township of Deep Snow:Yoke cattle "